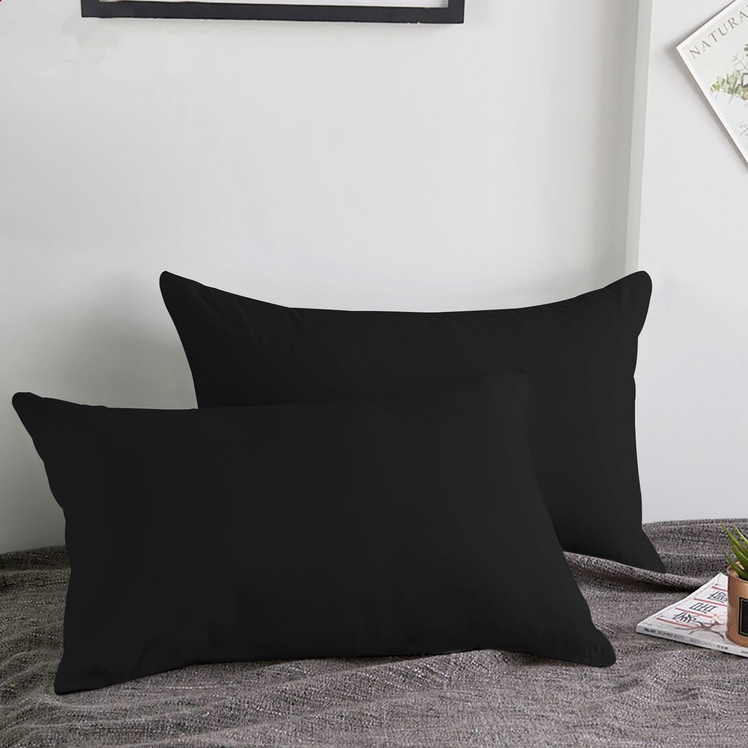 Product Information
SIZES(INCH)
19 X 29
THEME
Plain
COLOURS
White, Grey, Charcoal, Pink, Purple, Black, Red, Ochre, Navy, Cream & Light Blue
MATERIAL
Microfiber
WASHING INSTRUCTIONS
Hand Washable
We proudly present our new line of elegant black pillow cases, which we believe will complement your bedroom's current aesthetic. These pillowcases are long-lasting and soft since they are constructed from high-quality fabrics. They'll provide you with a good night's rest for ages.

The standard size of these cases should accommodate most of your standard pillows. They are a practical addition to your bedding collection because they are easy to clean. Black bedding is a striking colour that complements many different decor styles. If you want to spruce up your bedroom's aesthetic or want to sleep better, our black pillowcases are a great choice.

Enjoy life with Yorkshire Bedding's high-end, glossy black pillow cases, the perfect addition to any modern home.

FAQ's
Pillowcases, like sheets and quilt covers, are made from natural and synthetic fabrics. Cotton pillowcases are soft and inexpensive. Nylon pillowcases frequently seem like silk. Silk, a natural fabric, is more delicate than satin yet has the same appealing features. Linen is the perfect summer bedding fabric due to its unique feel and breathability. Microfiber and cotton-polyester blends are inexpensive, soft, wrinkle-resistant, and simple to clean.
Yorkshire Bedding pillowcases come in a standard size of 19 inches × 29 inches.
The pillow you sleep primarily on is often tucked away inside a pillow sham, protected from damage by a pillow cover. A pillow sham is an additional pillow cover placed on top of the pillowcases, and you may either sit on them or rest on them.
Although most pillowcases may be machine-washed, always check the label first. Specific varieties, like silk pillowcases, have specific maintenance requirements. If an inner cover protects your pillow, gently remove it and hand-wash it with a gentle detergent.
A pillow cover is something that you place over your pillow while you sleep in order to keep it clean. The primary use of this item is to shield your pillow from allergens, grime, and stains.
A pillowcase isn't necessary for a good night's sleep for either of us. However, it is strongly suggested that you wear pillowcases and change them out weekly since they are much better for your health and cleanliness.
Pillowcases should be washed at the same time as your other bed linens, which should be done at least once a week. Following this general principle is a good idea.