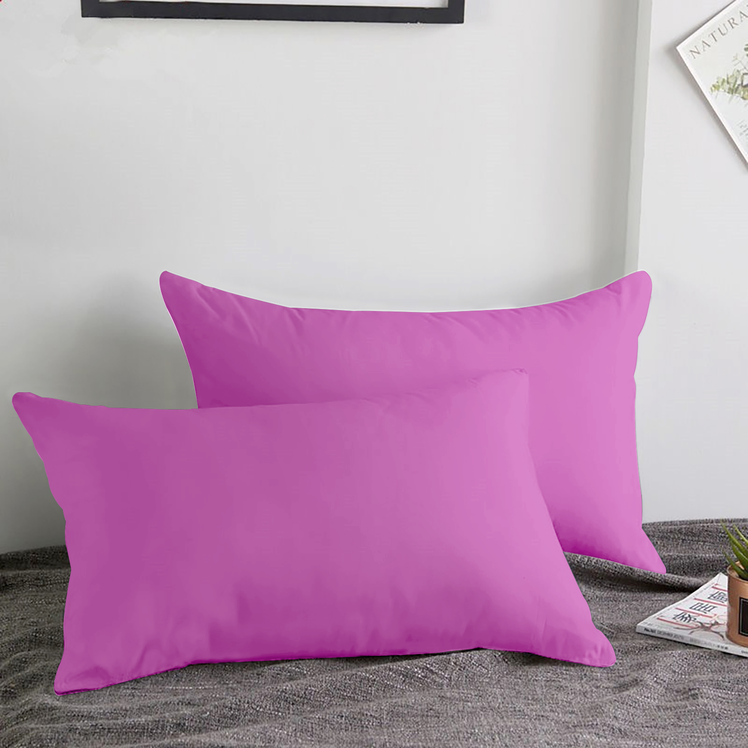 Product Information
SIZES(INCH)
19 X 29
THEME
Plain
COLOURS
White, Grey, Charcoal, Pink, Purple, Black, Red, Ochre, Navy, Cream & Light Blue
MATERIAL
Microfiber
WASHING INSTRUCTIONS
Hand Washable
Update your bedding with this luxurious set of purple pillow cases. The finest microfiber fabrics also resist stains and wrinkles while providing excellent breathability. A good sewing stitch and exquisite artistry can minimise the amount of loose thread. You may sleep soundly in chic comfort with this pair of two matching purple pillowcases.

These pillowcases are more skin-friendly and fade-resistant, thanks to an innovative and environmentally friendly colouring process. The clean lines are excellent, and the wrinkle-resistant fabric is perfect for a guest bedroom. These pillowcases are a great addition to any bed since they provide a soft surface to rest your head on.

Our incredibly soft pillow cases will keep your pillows clean and look great in your bedroom. A product like this is valid year-round.

Get a stylish, comfortable, and long-lasting addition to your bed with these purple pillowcases.

FAQ's
Pillowcases, like sheets and quilt covers, are made from natural and synthetic fabrics. Cotton pillowcases are soft and inexpensive. Nylon pillowcases frequently seem like silk. Silk, a natural fabric, is more delicate than satin yet has the same appealing features. Linen is the perfect summer bedding fabric due to its unique feel and breathability. Microfiber and cotton-polyester blends are inexpensive, soft, wrinkle-resistant, and simple to clean.
Yorkshire Bedding pillowcases come in a standard size of 19 inches × 29 inches.
The pillow you sleep primarily on is often tucked away inside a pillow sham, protected from damage by a pillow cover. A pillow sham is an additional pillow cover placed on top of the pillowcases, and you may either sit on them or rest on them.
Although most pillowcases may be machine-washed, always check the label first. Specific varieties, like silk pillowcases, have specific maintenance requirements. If an inner cover protects your pillow, gently remove it and hand-wash it with a gentle detergent.
A pillow cover is something that you place over your pillow while you sleep in order to keep it clean. The primary use of this item is to shield your pillow from allergens, grime, and stains.
A pillowcase isn't necessary for a good night's sleep for either of us. However, it is strongly suggested that you wear pillowcases and change them out weekly since they are much better for your health and cleanliness.
Pillowcases should be washed at the same time as your other bed linens, which should be done at least once a week. Following this general principle is a good idea.
Good value
I bought the pillow cases to go with the purple sheet, unfortunately the colours weren't the same when they arrived but once they were together they complimented each other so I'm happy with that, they washed well and kept their colour.
Will definitely buy from here again
Dear Customer,
Thank you for taking the time to leave us a great review. We really appreciate your feedback. If you need any assistance in the future, please do not hesitate to contact us.
Kind Regards
Yorkshire Bedding
Customer Service Department
Great products
Really love the quality of the sheets and pillow cases I bought. They wash really well. Would recommend this company and will be purchasing more as required
Dear Customer,
Thank you for taking the time to leave us a great review. We really appreciate your feedback. If you need any assistance in the future, please do not hesitate to contact us.
Kind Regards
Yorkshire Bedding
Customer Service Department